Features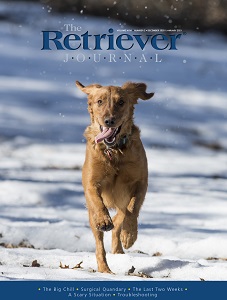 The Big Chill
By E. Donnall Thomas Jr.
A Spot of Color
A Photo Essay
The Big Bang Theory
By Charlie Jurney
The Last Two Weeks
By Chris Smith
The Surgical Quandary
By Steve Smith
Departments
Do-It-Yourself Duck Dog
Troubleshooting in the field.
By Ryan Eder
Waterfowling North America
Pack your things.
By Doug Larsen
The Vet's Office
A scary situation.
By Dr. Ben J. Character
et al.
Subscriber Photos
Subscriber Forum
Your Dog & You
Second half kickoff.
By George Hickox
The View From the Pier
By Casimer "Cas" Cecum