by Ryan Eder
What is the largest retriever test or trial event in the United States? To the surprise of many, it is the AKC Master National Hunt Test. The Master National is an annual event held in a different location each year that requires dogs to qualify by passing a certain number of AKC Master level hunt tests – six tests for a dog that didn't pass the National previously, or four tests for a dog that did pass the National the previous year. The event consists of nine or 10 days of testing. The series can be on land, water, or a land-water combination.
Almost always, the test will contain a triple marked retrieve as well as a blind retrieve or two. Dogs and handlers work together to complete each series and are judged on their performance.
If you ask anyone who has attended or participated in the Master National event, they'll tell you that what stands out the most is the atmosphere. A hunt test is different from a field trial in several ways, but the major difference is the fact that dogs and handlers are not competing against one another; they are competing against a written standard, requirements that must be met in order to pass a test. So, unlike a field trial, winners can be 100 percent of the entrants.
"The atmosphere promotes a spirit of camaraderie like no other sport," said Mia DiBenedetto, Communications and Public Relations manager for the AKC Master National. "Handlers are cheering for their friends and really meaning it!"
To gain more insight into the AKC Master National. I spoke with Kevin Bunnell, current President of the Master National Retriever Club (MNRC). Kevin served on the MNRC board for eight years before earning the President's role.
To what do you attribute the tremendous growth of the Master National?
Bunnell: One of the contributors to the tremendous growth of the MNRC occurred when, in 2012, the AKC added the additional title of Master National Hunter (MNH) for qualifying three times in this event. Another contributor is the hard work and dedication of the Board of Directors organizing this premier event.
How would you compare this event to a typical hunt test?

Bunnell: The Master National is a typical hunt test on a much larger scale in reference to the number of dogs entered and the number of flights. Some things that stand out and differentiate the Master National include the excitement of qualifying for the event each year, and receiving a personal invitation to participate. Pre-national training the week before the event is a special experience enjoyed by all, which is not typical in a "normal" weekend test. There are also events that take place within the Master National such as the banquets and the running order draw, which are always highly anticipated by the attendees. Of course, being a national event, the idea of earning a qualifying score – or the feeling of defeat we've all experienced when we may not qualify – combined with the camaraderie of the handlers, makes this a special event.
How would you describe the impact the Master National has had on the retriever hunt test sport in general, and what do you think the future holds for this event?
Bunnell: I feel that our vision and mission statements best define the impact that the MNRC has had on the hunt test community: "Leading the standard for excellence in training and handling of hunting retrievers. The Master National Retriever Club is committed to testing retrievers annually to a standard of excellence within American Kennel Club guidelines, celebrating the hunting tradition, and educating all those involved."
The increasing number of participating dogs and handlers in the Master National clearly illustrates the growth of this event specifically, but also suggests that more dogs and handlers are running AKC hunt tests around the country in order to qualify. Increased participation leads to the growth of existing AKC retriever clubs, as well as the birth of new retriever clubs. While more than 800 dogs ran in the 2017 Master National, more than 1,100 dogs qualified, and that is a number we are proud of, but also committed to growing."
The discussions for this article yielded some fantastic information that reaffirmed my suspicion that the Master National event continues to grow in popularity. My first experience with this event came in 2017 as an owner. My dog earned her AKC Master Hunter title, which also qualified her for the 2017 National. Just like many of us, my dog training is done in addition to a full time day job and a family. I chose to pursue the Master National by utilizing the help of a professional trainer and handler because I couldn't make the time for a 10-day event (plus a week's worth of pre-national training prior to the event).
While my dog ended up breaking in the fourth series and not qualifying, I found the experience of owning a dog that is being run in the Master National exciting and worthwhile. It truly is an accomplishment for a dog to get there, as well as for the handlers and trainers involved.
This event has caused some controversy in our sport; the Master level stakes throughout the hunt test season can fill rapidly (sometimes in a matter of minutes, literally), making it difficult to get into an event with your dog or dogs. This has been attributed to increased participation by professional trainers entering a large number of dogs into a test to qualify for the National. While this can be viewed as a hindrance to entering Master stakes in AKC hunt tests for some, I think the positive influence of this event on our sport overshadows any negative aspects.
For our sport to grow, two things need to happen: More people and dogs participate, and revenue is earned to fund the growth. With more than 1,100 dogs qualifying in 2017, that means that many dogs passed several tests that year – and entries can range from $70 to $90. Additionally, the entry fee for the 2017 Master National was in the ballpark of $400. This type of participation and revenue generation is fantastic for our sport and ensures it stays around for generations to come.
I also feel the addition of the Master National title as an accolade to be earned gives us that much more to strive for with our dogs. We all know how addicting it is to stand next to our dogs at the line in these events, so why not chase further accomplishments? The Master National incentivizes participation for the duration of a dog's career, and that is critical in keeping good dogs and people involved in our sport.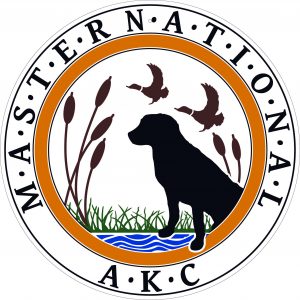 A few key facts about the AKC Master National
The first Master National was run in 1991 in Glascow, Delaware, with fewer than 100 dogs.
In October 2017, 820 retrievers were entered into the Master National event held at The Big Woods on the Trinity, in Tennessee Colony, Texas.
1,123 dogs actually qualified for the event, meaning they competed throughout the year and passed at least six AKC Master Hunter tests.
Breeds represented at the 2017 Master National
Labrador retrievers: Male: 440; Female: 323
Golden retrievers: Male: 23; Female: 18
Chesapeake Bay retrievers: Male: 7; Female: 3
Nova Scotia duck tolling retriever: Male: 3; Female: 0
Boykin spaniel: Male: 0; Female: 2
Standard poodle: Male: 0; Female: 1
Average Age of entries: 6 years
Dogs with Prior MNRC Passes: 350
Dogs Running in MNRC Hall of Fame: 70 (meaning they already passed three Master Nationals)
Dogs Running Eligible for Hall of Fame: 96
(Information provided by Mia DiBenedetto.)
I would like to extend a special thank-you to Mia and Kevin for their support. Next time, we'll continue looking at the Master National event through a different lens – the professional trainer and handler. We will discuss what it takes to get a dog ready for such an event, and what unique challenges there are compared to an ordinary weekend hunt test.