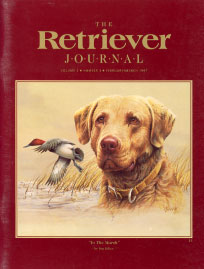 February/March 1997
Volume 2, Number 3
Features
Going Alone
by E. Donnall Thomas Jr.
7 Days in November
by Mike Lardy
Traces
by J.B. Stearns
An American Original: The American Water Spaniel
by Bob Butz
Departments
Tips from the Dobbs Training Center
by Jim and Phyllis Dobbs
Prerequisites for "taking the line."
The Wingshooter
by Chris Smith
Nova Scotia mixed bag.
The Upland Retriever
by Charles Jurney
Lessons from the pheasant field.
The Sporting Spaniel
by Jim and Phyllis Dobbs
Hup! Phase I
Into the Past
by Laurie Morrow
Training the spaniel.
The Fault Forum
by Jerry Warrington
When do you go to a pro?
Ask D.L.
by D.L. Walters
Reluctance, boredom, and overenthusiasm.
Veterinary Q&A
by Charlie Powell
Parvo, mange, & liver problems.
Et al.
Looking Back
by Gene Hill
Labrador legends.
Puppy = Potential
by Jim Hildebrantd
Bookmarks
Club News