by Steve Smith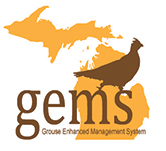 SB 39 would change that on those state lands and all others. Below are the pertinent sections:Michigan Senate Bill 39 2015 under consideration in Lansing provides for all state public lands to be open to motorized vehicles. The GEMS Lands, scattered through Michigan UP and northern Lower Peninsula are limited access, gated, foot-traffic only areas intended to be extensively managed for grouse, as the name states, woodcock, deer, and other small game. There are 11 areas, ranging in size up to more than 6000 acres. More than half are open for business, the rest to follow quickly. The areas are intended for quiet, undisturbed foot-hunting.
"The department shall promote public enjoyment of this state's wildlife and other natural resources by providing public access to all lands under the control of the department for all natural resource dependent outdoor recreation activities including motorized and nonmotorized [sic] activities." [emphasis mine]
To help that along, there's this:
"Maximizing…access to the land and to bodies of water on or adjacent to the land, including removal of gates, berms, and other human-made barrier." [emphasis mine]
This is a good chance for bird hunters to be heard. If you don't feel that opening these areas to motorized vehicles of all kinds is in our best interest, get in touch with your state Senator and urge him or her to alter, change, or defeat SB 39. A listing and contact information is available athttp://www.senate.michigan.gov/default.html.
There is no reason why some lands cannot be managed for specific purposes. The GEM Lands project is a boon to bird hunters, but it needs to remain foot-traffic only.
The bill in its entirety can be seen here: http://www.legislature.mi.gov/documents/2015-2016/billintroduced/Senate/htm/2015-SIB-0039.htm
UP:
Ralph-Dickinson County
5,300 acres
South Marquette-
Marquette County
6,000 acres
Strickler-Mackinaw County
2,100 acres
Drummond Island-
Chippewa County
2,800 acres
Ottawa-Gogebic County (national forest)
1,800 acres
LP:
LeeGrande Ranch-Cheboygan County
2,600 acres